■ Specifications
Attention1:
This tumbler separator can be manufactured as customers' need because of some high precision sieving.
Attention2:

The tumbler separator also be called as other name in different country, for example, sometimes will also named it as rocking sieve; tumbler screen; tumbler screener and so on.

Distinctive features:
1. Amazing capacity: This machine can produce nonlinear three-D movement, five times output per unit area than other simple vibrating screen.
2. Multilevel screening: This machine can be installed 5 layers screen cloth, reach to 6 stages separation, the screening efficiency can be up to 90%-95%.
3. Less abrasion: 4.5 times acceleration lower than other general vibrating screen, some screen parts' life raised up and maintenance reduced.
4. Strong cleaning: Self-clean device is installed on the machine, as following type: ultrasonic self-clean device; rubber balls self-clean device; rotary brush self-clean device.
5. Environmental operation: Totally enclosed design, no dust fly, safe in operation; the noise is less than 75db, silent when working.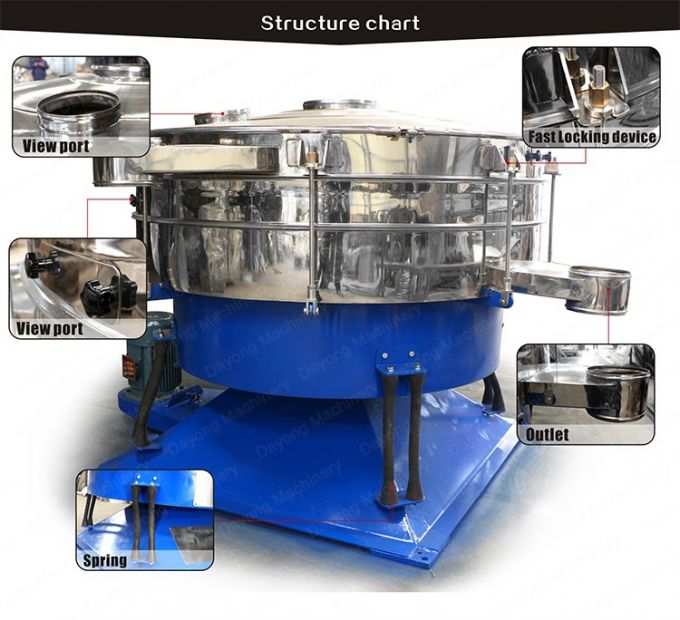 Application industries:
1. Chemical industry: resin pigment, grease, paint, palette, etc.
2. Abrasive material and ceramic industry: building sand, mica, alumina, abrasive, refractory material, slurry, etc.
3. Food industry: sugar, salt, alkali, gourmet powder, starch, milk powder, yeast powder, pollen, food additive, bean milk, juice, etc.
4. Paper-making industry: coated slurry, exhaust liquid, paper making liquid, waste water reclamation, etc.
5. Metallurgy and mining industry: quartz sand, ore, titanium oxide, zinc oxide, gravel, etc.
■ Technical Data
| | | | | |
| --- | --- | --- | --- | --- |
| Model | Diameter(mm) | Screening surface(m²) | Layer | Power |
| DYB-600 | 600 | 0.292 | 1-5 | 0.25 |
| DYB-1000 | 1000 | 0.785 | 1-5 | 1.5 |
| DYB-1200 | 1200 | 1.13 | 1-5 | 2.2 |
| DYB-1600 | 1600 | 1.83 | 1-5 | 3 |
| DYB-2000 | 2000 | 2.63 | 1-5 | 4.0 |
| DYB-2400 | 2400 | 4.52 | 1-5 | 5.5 |
| DYB-2600 | 2600 | 5.31 | 1-5 | 5.5 |