■ Specifications

Attention1:
This belt conveyor can be designed and manufactured by customers' specific requirements.
Attention2:

The belt conveyor also be called as other name in different country, for example, sometimes will also named it as
Portable belt conveyor;
adjustable belt conveyor;
inclined belt conveyor;
mobile belt conveyor and so on.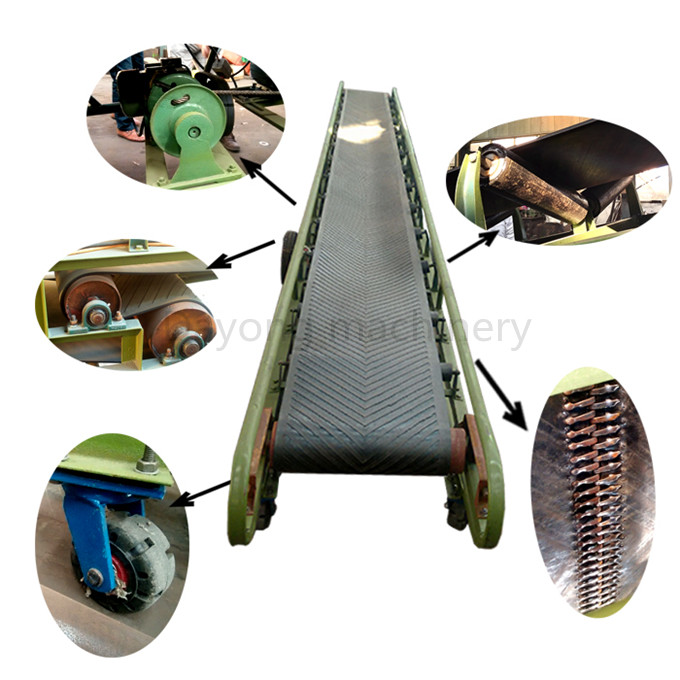 1. Automatic conveyor: This machine can be designed as programmed and automatic operation, convenient and safe.
2. Changeable delivery way: This conveyor not only can be designed as horizontal and inclined delivery way, but also can be used as another delivery way combined with convex, concave and linear belt.
3. Varies spares: We supply four belts as rubber belt, nylon belt, plastic belt and steel belt. The rubber belt can be divided into flat and "V" belt. Three kind of rollers, nylon roller, ceramic roller and rubber covered roller.
4. Adjusted design: The width of belt, the angle of machine, the thickness of belt can be adjusted as your requirement.
Application industries:
1. Applicable industries: metallurgical mines, coal, port, transportation, chemical, grain, etc.
2. Applicable materials: corn, rice, wheat, coal, sand, stone, etc.
■ Technical Data
Belt Width (mm)

Belt Length(m)

Belt Speed (m/s)

Capacity (t/h)

Power(kw)

400

≤12

12-20

20-25

0.8-2

40-80

1.5

2.2

3

500

≤12

12-20

20-30

0.8-2

78-191

3

4

5.5

650

≤12

12-20

20-30

0.8-2

131-323

4

5.5

7.5

800

≤10

10-15

15-25

1.0-2

278-546

4

5.5

7.5

1000

≤10

10-20

20-25

1.0-2

435-853

5.5

7.5

11

1200

≤10

10-20

20-25

1.0-2

655-1284

7.5

11

15