■ Specifications
The vibration force of dewatering vibrationg screen is divided into vibration motor type and ordinary motor driving exciter type. For the vibration motor type, the exciting force can be adjusted by the motor eccentric block. The common motor type adopts the double motor self-synchronization technology, mainly Screening of larger particles and the use of more water, the device is driven by the tape were two unrelated shock absorber for synchronous reverse rotation, the component force along the vibration direction of centrifugal force produced by two sets of eccentric mass superpose, reverse centrifugal offset, thus forming a single vibration along the vibration direction, so that the screen box for reciprocating linear motion.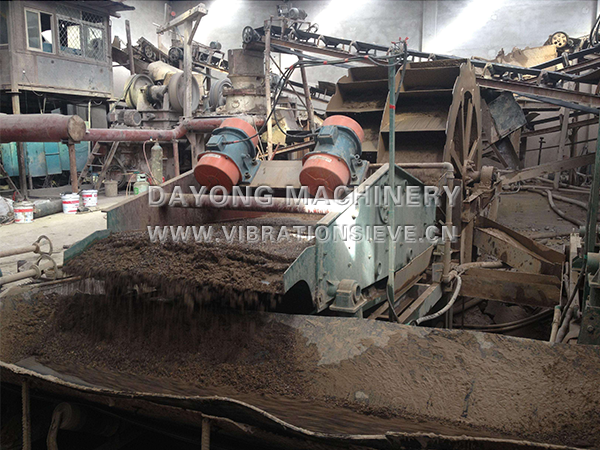 1. Whole sieve machine horizontal installation, but the screen was negative angle installed to ensure the best dehydration effect;
2. The use of high wear-resistant sieve plate long service life, modular assembly design, easy to replace, cost savings, mesh size can be selected according to requirements
3. Using the new energy-saving double vibration motor as the excitation source, the screen frame adopts special noise reduction material and is connected by high-strength bolts to ensure that the screen equipment is reliable and the working noise is reduced, the whole machine working noise is lower than 85dB (A) , Similar sieve decline of about 15dB;
4. Feeding input can be set to curved sieve surface, improve dewatering efficiency;
5. Set the feed box to ensure that the material evenly into the sieve surface;
6. With the overall underframe, easy to carry and install;
7. Rely on sieve filter layer to retain fine and backlog of dewatering.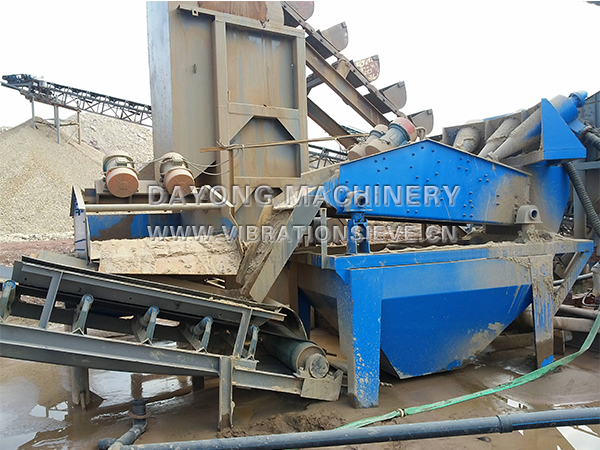 1. Low noise and light weight
2. Relatively small volume, large capacity per unit area;
3. Professional design of the frequency, amplitude, low power consumption, suitable for a variety of dehydration needs, 24 hours continuous dry operation;
4. High wear-resistant sieve plate, long service life, modular assembly design, easy to replace;
5. The combination of steel components riveting and welded together, constitute no internal stress, high strength, light and durable frame body.
Tailings dry discharge: iron tailings, gold tailings, copper tailings, vanadium tailings, lead - zinc tailings, graphite tailings;
Washed sand: quartz sand, zircon sand, glass sand, building sand, casting sand, building materials sand, potassium feldspar dehydration;
Slime dewatering: slime dewatering;
Soil remediation: soil remediation;
Sewage treatment: urban sewage, industrial sewage, river sludge solid-liquid separation, sewage treatment plant filtration.
Please advice the material name to be screened, feature, specific gravity, temperature, capacity, concentration, etc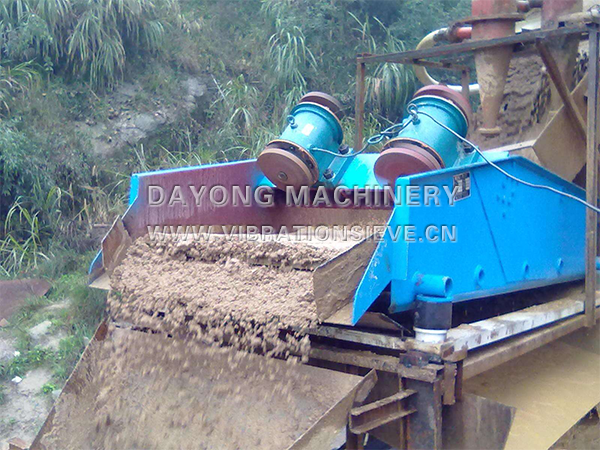 ■ Technical Data
Model

Screenarea(㎡)

Aperture/mm

Screen structure

double-amplitude

Power (kw)

Capacity (m3/h)

Feed size

Vibration angle

TS1020

2

0.25-50

Woven,

slotted,
polyurethane

8-10

0.75×2

5-10

≤10mm

45°

TS1236

4.3

8-12

1.1×2

10-20

≤10mm

TS1536

5.4

8-12

1.5×2

20-30

≤10mm

TS1838

6.5

8-12

3×2

50-80

≤10mm

TS2045

9

8-12

5.5×2

100-120

≤10mm

TS3060

18

8-12

11×2

150-200

≤10mm