■ Specifications
Attention1:
This discharge vibrating screen is a customizable machine, which can be manufactured by different needs as customers' requirements.
Attention2:
The discharge vibrating screen also be called as other name in different country, for example, sometimes will also named it as Discharge vibrating sieve; discharge vibratory sieve; flour sifter; Low-Profile separator and so on.
Distinctive features:
1. Silent machine: This machine was made of high quality stainless steel 304, ultra-low sound design, quiet when working.
2. Clean machine: This machine has a simple structure, easy to clean and disinfect, comply with the norms of food and pharmaceutical industries.
3. Efficient machine: The outlet set beneath the screen body can easily discharge very distinguishing materials.
4. Environmental machine: This machine adopts totally enclosed structure, no dust fly, no liquid leak.
5. Changeable machine: This machine can be installed on one or two motors, and the motor can be manufactured by your requirement.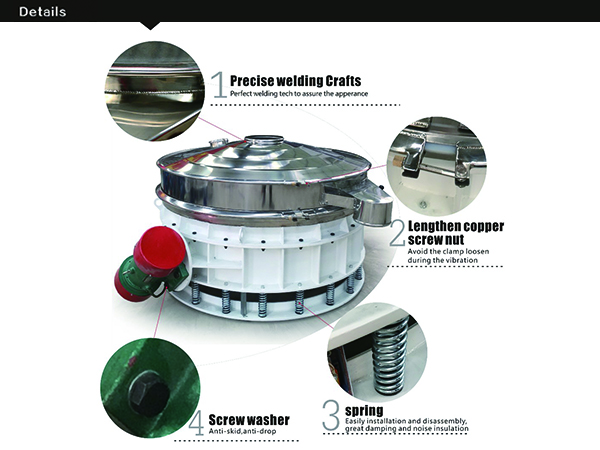 Application industries:
1. Chemical industry: resin powder, palette, washing powder, paint, soda and citric acid, etc.
2. Abrasive material and ceramic industry: alumina, quartz, welding rod powder, aluminum, alloy powder, etc.
3. Food industry: sugar, salt, alkali, milk powder, soybean milk, yeast, juice, soy sauce, vinegar, etc.
4. Paper-Making Industries: coated slurry, exhaust liquid, paper making liquid, waste water reclamation, etc.
■ Technical Data
| | | | | |
| --- | --- | --- | --- | --- |
| Model | Valid Diameter of screen(mm) | Frequency (r/m) | Power(KW) | Layer |
| DYS-600-1S | 550 | 1450 | 0.35 | 1 |
| DYS-800-1S | 750 | 1450 | 0.55 | 1 |
| DYS-1000-1S | 950 | 1450 | 0.75 | 1 |
| DYS-1200-1S | 1150 | 1450 | 1.5 | 1 |
| DYS-1500-1S | 1450 | 1450 | 1.75 | 1 |