■ Specifications
Attention1:
The height of groove and the thickness of steel plate are adjustable. This machine can be added a hopper for the production line.
Attention2:
The vibratory feeder also be called as other name in different country, for example, sometimes will also named it as vibrating feeder; Vibrating conveyor; Vibratory transporter; Vibratory Charger and so on.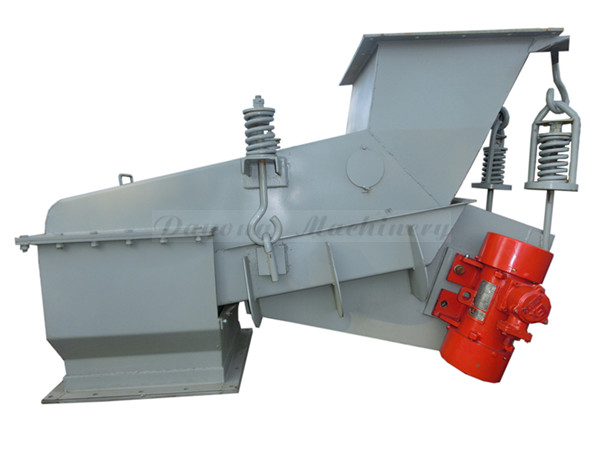 Destinctive features:
1. Reliable service: This machine can operate smoothly, and supply a long and reliable service.
2. Adjustable vibration: The vibrating force is adjustable, and the flow rate can also be controlled at any time.
3. Simple structure: This machine has a simple design, very easy to install and operate.
4. Silent operation: Low noise, low power consumption.
Application:
1. Metallurgy, building material, chemical industry.
2. Coal, mining and grinding industry.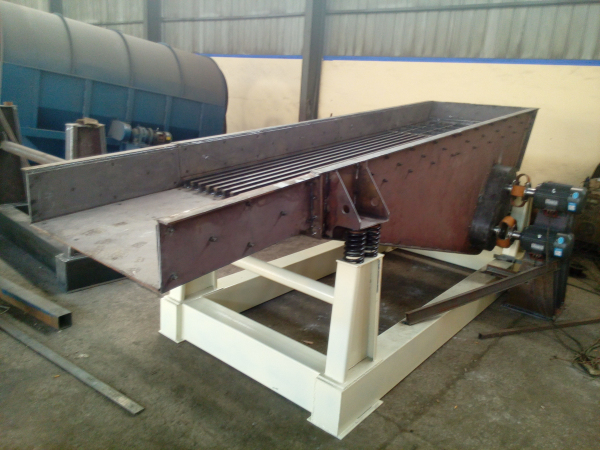 ■ Technical Data
Model

Max.Feed Size
(mm)

Capacity
(t/h)

Motor Power
(kw)

Feeding Hopper Dimensions
(W*L*H mm)

DZ30-4

120


15

0.18 x 2

300 x 800 x 120

DZ40-4

40

0.25 x 2

400 x 1000 x 160

DZ50-4

50

0.4 x 2

500 x 1100 x 200

DZ60-4

150

85

0.75 x 2

600 x 1200 x 250

DZ70-4

180

100

0.75 x 2

700 x 1300 x 280

DZ80-4

200

200

0.75 x 2

800 x 1600 x 300

DZ90-4

250

220

1.1 x 2

900 x 1600 x 350

DZ100-4

240

1.5 x 2

1000 x 1600 x 350

DZ110-4

350

400

1.5 x 2

1100 x 1800 x 400

DZ120-4

440

1.5 x 2

1200 x 2000 x 400

DZ130-4

475

1.5 x 2

1300 x 2200 x 400

DZ70-6

150

80

1.5 x 2

700 x 1300 x 280

DZ80-6

180

160

2.2 x 2

800 x 1600 x 300

DZ90-6

240

240

3 x 2

900 x 1600 x 350

DZ110-6

320

3.7 x 2

1100 x 1600 x 350

DZ130-6

320

400

3.7 x 2

1300 x 2200 x 400

DZ150-6

500

3.7 x 2

1500 x 2400 x 400