■ Specifications
Attention1:
This screw conveyor is a customizable machine. We can design and manufacture a screw conveyor according to customers' specific requirements.
Attention2:

The screw conveyor also be called as other name in different country, for example, sometimes will also named it as
pipe screw conveyor;
auger conveyor;
Trough Shaped Screw conveyor;
screw feeder;
U-type Screw Conveyor and so on.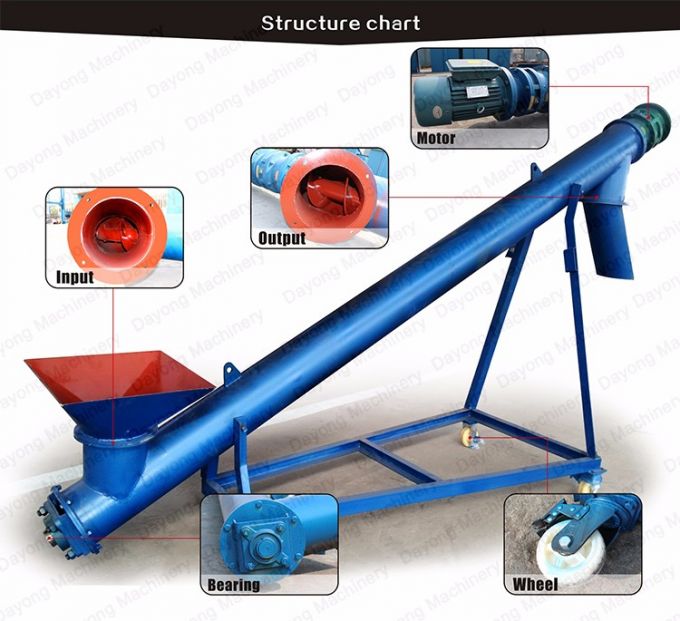 Distinctive features:
1. Simple structure: This conveyor was designed simplely, which is easy to operate and maintain.
2. Stable performance: With a small section dimension and good seal, this machine can operate stably.
3. Changeable inlet and outlet: The inlet and outlet of this conveyor can be designed as your requirement.
4. Flexible conveyor: This machine can be designed as your need, such as different angle, different vibration, different type.
Application industries:
1. Applicable industries: building materials, chemical, electricity, metallurgy, coal, grain, etc.
2. Applicable materials: coal, coal ash, residue, concrete, wheat, corn, rice, etc.
■ Technical Data
Model

LSY 100

LSY 120

LSY 140

LSY 160

LSY 200

LSY 250

LSY 300

LSY 400

Diameter of screw (mm)

90

115

135

163

185

237

285

362

Speed of main axis (r/min)

300

300

300

308

260

200

170

170

Diameter of main case(mm)

108

133

159

194

219

273

325

402

Max capacity (t/h)

7

10

15

25

40

60

90

120

Max conveying length (m)

8

10

12

15

18

25

25

25

Working angle (degree)

0~60

0~60

0~60

0~60

0~60

0~60

0~60

0~60

Motor

model

Length≤7M

Y90S-4

Y100L1-4

Y100L2-4

Y132S-4

Y132M-4

Y160L-6

Y180M-4

Y180M-4

Power (kw)

1.1

2.2

3

5.5

7.5

11

18.5

18.5

model

Lengtth≥7M

Y100L1-4

Y100L2-4

Y112M-4

Y132M-4

Y160M-4

Y180L-6

Y180L-4

Y180L-4

Power ( kw)

2.2

3

4

7.5

11

15

22

22