■ Specifications
Attention1:
This lab sieve can be customized by customers' specific requirements.
Attention2:

The lab sieve also be called as other name in
different country, for example, sometimes will also named it as
sieve shaker; vibratory sieve shaker; analytical sieve shaker; laboratory sieve shaker and so on.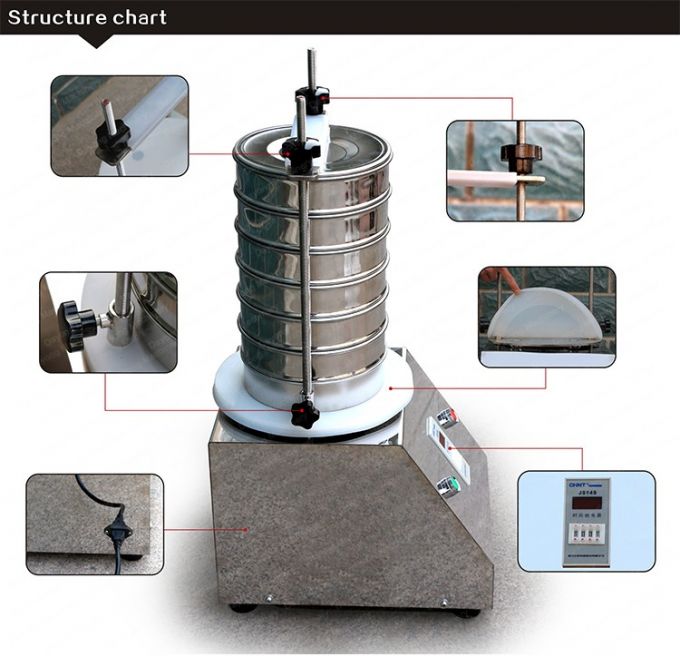 Distinctive features:
1. Unique design: New advanced power generator, high analytical efficiency and wide range.
2. High precision: This sieve can separate 8 groups of one sample.
3. Standard sieve: This machine adopts standard sieve to ensure high precision of the sample's analysis, reduce error.
4. Silent operation: This machine has a small size, take up less occupation, and has less noise.
Application industries:
Used in laboratory, and quality control inspection departments such as room of particles, powder material particle size distribution measurement, the product impurities, liquid solids content determination of analysis.
■ Technical Data
| | | | | | | |
| --- | --- | --- | --- | --- | --- | --- |
| Diameter(mm) | Layer | Power(KW) | Speed()R/min | Dimension(mm) | Amplitude(mm) | Noise(dB) |
| 200/300 | 1-8 | 0.125 | 1420 | 360*300*736 | ≤5 | ≤50 |